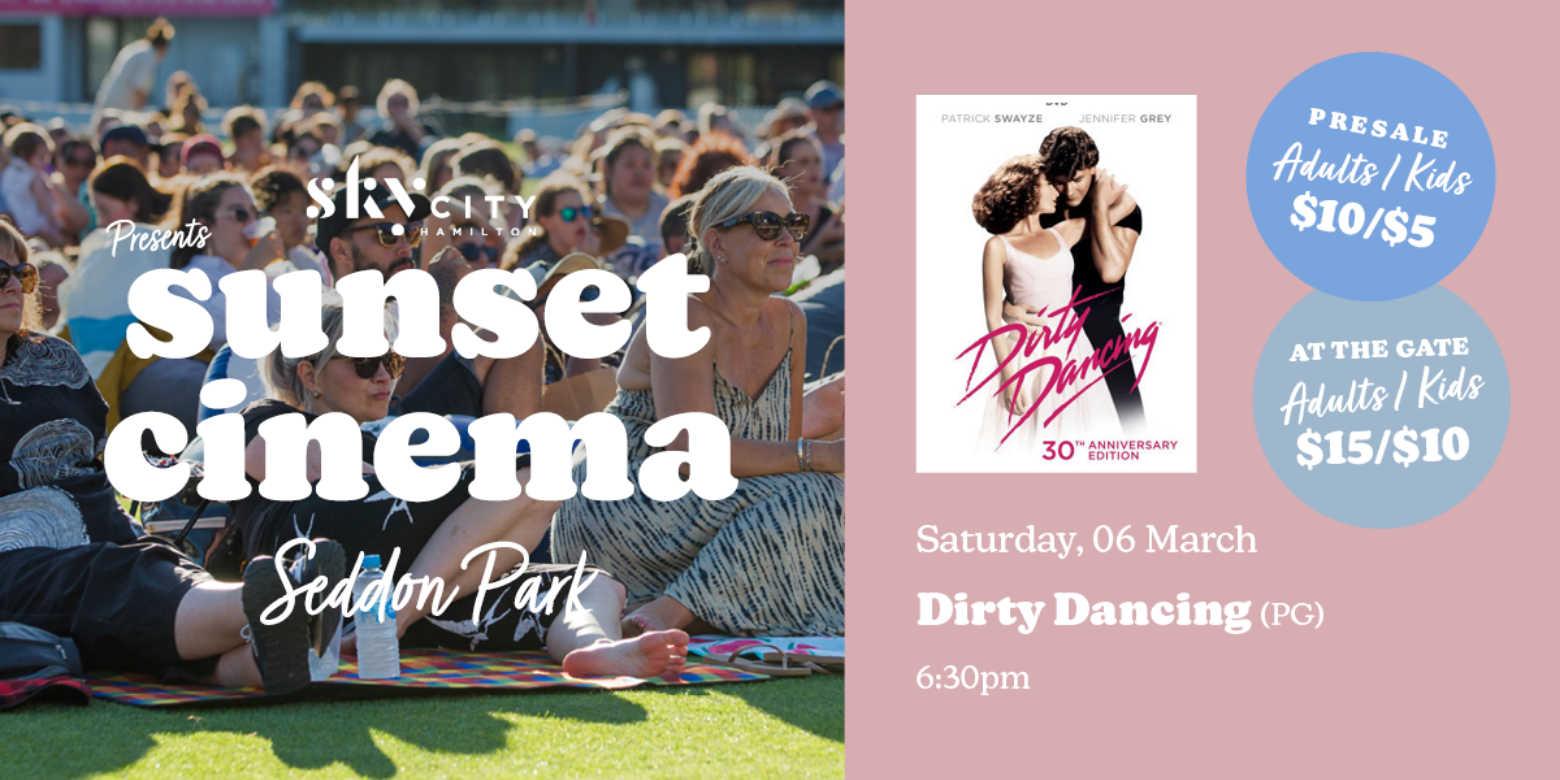 Get Tickets
Sunset Cinema - Dirty Dancing
Tickets for Sunset Cinema Seddon Park 2021 are currently on hold due to Covid-19 level restrictions in place. Further updates will be provided shortly. Thank you for your patience.
Swing on down to Seddon Park with your bean bag, inflatable or rug to catch this annual four night only out-door open air movie event series.

In DIRTY DANCING, Frances "Baby" Houseman (Jennifer Grey) and her family spend their summer vacation at a Catskills resort where Johnny Castle (Patrick Swayze) works. Baby runs into this handsome dance instructor from the wrong side of the tracks at a forbidden, wild "dirty dance" party that his friends throw after work. To supplement their meager earnings, Johnny and his partner, Penny (Cynthia Rhodes), do a mambo show at a neighbouring hotel. But then Penny gets pregnant by one of the hotel waiters, and the only time she can get an abortion is the night of a big mambo show. The naïve Baby steps in, determined to help, asking her father (Jerry Orbach) for money to help Penny, no questions asked, before desperately trying to learn the mambo in time. Romance takes off on the dance floor, accompanied by a great '60s soundtrack (a cute touch: many of the tunes have "baby" somewhere in the title). Johnny is drawn to Baby's fierce optimism and Baby is drawn to -- well, he's Patrick Swayze! What will happen when they're found out?

The 2020 event series saw sold out crowds, so grab your tickets at Ticketek today!


We are closely following advice from the Ministry of Health regarding COVID-19 – please check back for further information in regards to your event.
Get Tickets